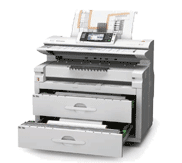 Frequently Asked Questions
How can I send you my files to print?
You can either send them by email to info@dciprinting.com (20MB Max Limit) or upload them through our website with an Online Order.
What else should I include in the email when sending my files?
Your name, a call back number, project title, how many copies would you need, the size you need the copies in, & whether you need binding or not.
If I sent the wrong files or it's not what I need to be printed, how can I cancel my order?
Call us or send an email stating to cancel the specified order you placed AS SOON AS POSSIBLE. Please remember, we are constantly checking emails and printing; If the job was already printed before you noticed the order needed to be canceled, you will need to pay for the impression.
What file formats do my plans/blueprints have to be in order to be printed?
The plan/blueprint files we accept are PDF, PLT, DWF and TIFF. We do not accept CAD (DWG) files because that's not a printing file format.
If I designed my own business card/flyer/brochure/etc., can you print it for me?
Yes we can print your files. Please make sure the file is in CMYK, PDF or TIFF format, has 300dpi resolution, and the file has an extra 1/8(0.25) inch all around from the actual final size. (For example: Business card final size is 3.5 x 2 inches, the print file size should be 3.75 x 2.5)
If you have any other questions, please do not hesitate to call us.
(305) 220-3939